Gina copied Deeaura and I copied Gina.
You Are Aurora! (A.K.A. Sleeping Beauty.)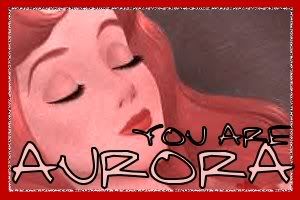 Thoughtful and loving. Authority figures probably have been sheltering you all of your life. Thankfully you're a very tranquil person who is content with what life has given you, but secretly you want to know how the outside world works.
Which Disney Princess Are You?
I'm not so sure about the whole sheltered thing, but the tranquil person content with what life has given me is a good description. She also happens to be my favorite princess so that works for me.